London has become a second home to me. London is a global city like New York, Tokya and my very own Bombay !
London is a global melting pot of cultures. No other place has such an eclectic mix of people, culture, language, cuisine, art, businesses, brands and tolerance.
June 2013 has been a great month for me and my London June Trip continued to prove that. InfoStretch's London office went operational. InfoStretch also won the award for the Best Company at GESIA Awards – a feat that was yammered by our CEO while sipping coffee at Thames !
London was packed in June due to summer, Champions Trophy, Wimbledon, music festivals and other events. The good thing was that the weather was excellent and we enjoyed it. The trip was very hectic but we stole time to explore London between a few meetings and one late evening. Food took us to new places as well. The new places that I discovered during this trip were:
1. Kokeb – Kokeb is an Ethiopian restaurant in the Holloway Area on the Roman Way. This was my first Ethiopian food experience and I enjoyed it. Much of it was like the Indian food. The bread was similar to Dosa. Our hostess was smart, witty and very warm person with an excellent service attitude. The place was fully crowded on a weekday at 7:30 pm.
2. Benito's Hat – A good place to try Mexican food. We were craving for Mexican food and the Burritas at Benito's were a great find. The extra spicy sauce was indeed too hot – my mistake to ignore the warnings from the boss of the joint !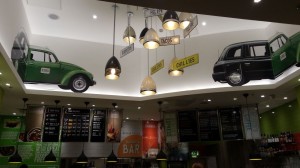 3. Wagamama – A great option for Asian Food. The place was right next to my hotel and very convenient as well.
4. GNH Bar – An island of peace in middle of madness ! The perfect place for meetings and some hot chocolate / coffee at King's Cross station. I loved it.
During meetings and dinner, I continued to entertain my traditional favorites – Masala Zone, Saraswati Bhavan, Pret A Manger, EAT etc. And yes, I had the street side ice-creams and Strawberries !