On Ahmedabad's 597th Birthday, I had undertaken the Ahmedabad Heritage Walk. It was a great experience. Since then, I got the opportunity to revisit the same walk multiple times with friends and guests. Heritage Walks are a great way to know the city and experience the treasure of our culture. It is a great connector between past and present. Now there is Gandhi Walk, Kids Heritage Walk and Art & Craft Walk as well.
On The World Heritage Day on April 18, 2014, I participated in the Jain Heritage Walk Organized by 'The Times Of India'. The concept of TOI Heritage Walks is to merge music with the walk.
The warm-up for the walk was the beautiful classical music by Genius Sitarist Manju Mehta. She gave a great spiritual and uplifting experience in the early morning at Diwanji-Ni-Haveli in Sankhdi Sheri at Manek Chowk.
After that great start, it was time for Jain Heritage Gaurav Yatra of the Walled City. The walk covered 33 temples made in marble and wood loaded with jaw-dropping carvings and yet retaining simplicity, the core value of the Jain way of life. The walk traversed through Ashtapad temple in Doshiwada ni pol, Ajithnath temple in Choumukhi ni pol, temples in Vaghan ni pol and the underground temple of Sambhavnath in Zaverivad.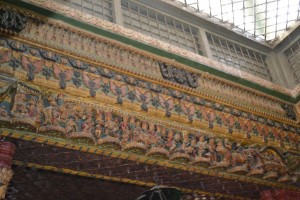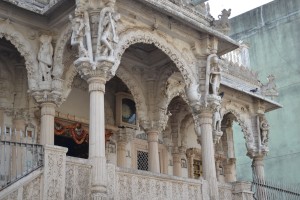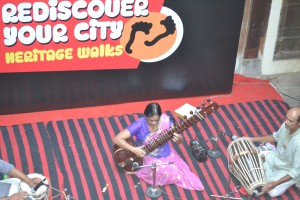 Related Links:
Ahmedabad Heritage WAlk
Ahmedabad Heritage Walk Photos – 2008