It is all about expectations ! If we are talking about the pedigree of Rajkumar Hirani and Aamir Khan, there is a certain expectation. And measured against that expectation PK is a big letdown.
Remove the pedigree and this is a good movie – but not extraordinary. This is Rajumar's most mediocre work – though Rajkumar's mediocre is above average of Bollywood's standards. Aamir's 'template' work inspite of his best efforts. Aamir did Dhoom for money – now after PK proving to be his usual fare, it is going to be interesting to see his next movie outing.
PK has been marketed as a satire on God and Gomdan. The movie questions the practices around religion in our lives. Paresh Rawal – Akshay Kumar starrer 'Oh My God' touched upon the same topic and was quite successful – hence comparisons are obvious. PK has its heart in the right place. There are excellent moments especially in the first half. A school girl's message that her God is not so small that he would get upset about her going to school is a great moment. Aamir's search for God via song is presented wonderfully – musically as well as visually.
PK (Aamir Khan) lands from a different planet and is an alien. His device that will allow him to go back is stolen. He wants to get that device back and return home. While pursuing his search for the device, he comes across God and God's managers (Godman). He coms across our prejudices, beliefs and hypocrisies. He is not successful in getting the device. He starts questioning lot of things on earth – as he has zero baggage and a new perspective. Jaggu (Anushka) is a TV reporter who befriends PK and helps him. Saurabh Shukla as Godman is the antagonist who wants to build a temple and has hold of PK's device. He also has been instrumental in spoiling the love life of Jaggu. The movie addresses all these issues layer by layer.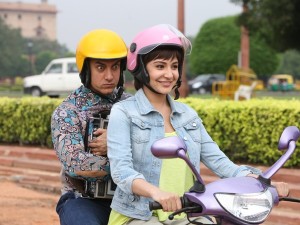 Aamir Khan has done a good job – though it looks like his normal template job. He does not surprise like Shahid in Haider or Kangana in Queen. The person who does surprise us is Anushka – the life of the movie. She is better than Aamir Khan in certain portions. She will benefit the most from the movie. Boman Irani, Sanjay Dutt and Sushant Singh Rajput are wasted. Parikshit Sahni is out of place. The music is good but not extraordinary.
Rajkumar Hirani brand of cinema stands for universally relevant social message delivered in an entertaining way. Think Munnabhai talking about medical system or relevance of Gandhi. Or Rancho challenging our notions of educations and beautifully highlighting the concept of excellence! PK becomes too preachy and common fare. PK does not live upto the movies mentioned earlier. But I am sure Rajkumar Hirani will be back. He is our last man standing in Bollywood.
PK – A film that challenges us and our beliefs . A RajKumar Hirani brand of cinema. A movie worth a watch. But not extraordinary.
What do you think – Is it Pretty Kool or Pseudo Klassic?