Haider – A Must Watch Film
Haider Is The Third Film In Vishal Bharadwaj's Shakespearean Triology – A Fitting Finale !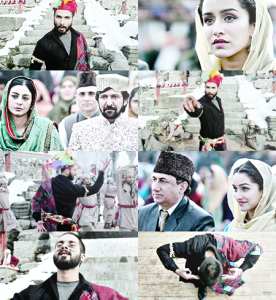 Vishal Bharadwaj Is One Of The Finest Talents In Indian Cinema. He Proves It Again With Haider. Vishal Has Wore Multiple Hats For The Film – Proving His Genius.
Vishal Took Shakespeare To Eastern UP and Mumbai Underworld Via Omkara And Maqbool Respectively – This Time His Spotlight on Kashmir. The Kashmir Situation Provides A Perfect Backdrop To The Complex Human Relationship Drama.
Shahid Kapoor Delivers His Best Ever Performance – Clearly Scoring Several Brownie Points And Showing His Real Talent ! Shahid's 'To Be Or Not To Be' Speech Is Just One Example Of A Perfectly Optimized And Balanced Performance. 'Chutzpah And AFSPA' Is Another Example. Shahid's Transformation From A Poet To A Rebel Is Very Commendable.
Tabu Outgrows Everyone. This Is The Tabu We Have Been Missing. An Woman With Ambivalent Feelings. Watch Her Talk About She Being The Villain Always! Or Her Looks When Shahid Meets Her After Her Second Marriage. Her Fragile, Heartbreaking, Vulnerable Portrayal Is The Stellar Performance Of The Film.
Kay Kay, Irrfan, Shraddha Kapoor Deliver Power-packed Performances In The Important Characters In The Opera. The Grave Diggers, The Two Salmans, Haider's Father Are Equally Important Portrayals. Cinematography Is Captivating Indeed.
The Film Could Have Done With Sharper Editing, Removal Of Forced Romantic Song.
Shahid And Vishal Did Not Charge For The Movie – Proves That Best Things Are Priceless.
This Is Definitely Vishal's And Shahid's Best Film. National Award For Vishal, Shahid And Tabu? Fingers Crossed !