Joker movie is a cinematic experience par excellence.
Director Tod Phillips has reimagined the classic character and presented a very gripping tale.
Joaquin Phoenix is Arthur Fleck – the clown on hire and a struggling stand-up comedian. He lives with his mother in a rat-hole apartment in Gotham city. He adores the celebrity TV comedian and talk show host Murray Franklin. He wants to be famous like him. He has a silent crush on his neighbour. He has mental health challenges and he finds an unlikely connection with one of the most powerful man in the city. The story unfolds and slowly showcases his rise as Joker.
The beauty of the movie is in details….Cinema at its best!
The moment of Arthur trying to be friendly with a boy in the bus. The scare of the dwarf clown trying to open the door. The pain of unconquered love when he visits his desired love. The sadness of funding cuts. The despair of being fired. The anger and cries of unravelling a difficult past.
Joker's dance on the steps – Oh my God! What a capture!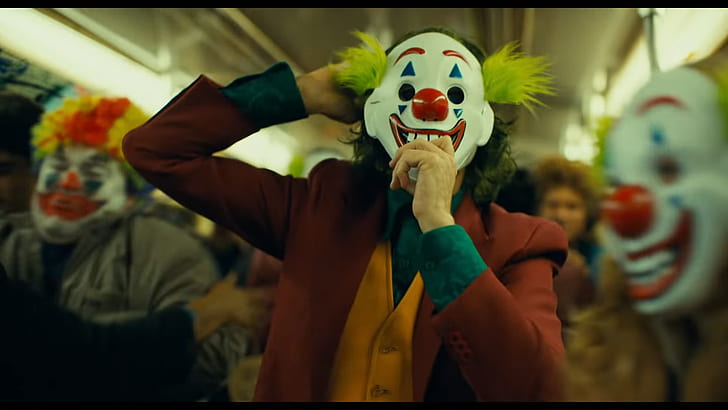 Director has captured the loneliness and despair in beautifully captured shots. The lonely steps. The lonely train on a dark night. The flickering lights. The dull apartments. The empty lives. The dark people. Everything he shows has a meaning. Everything he has shown has a context. Even the 'Charlie Chaplin' movie in the theatre.
The world is falling apart. The garbage collectors are on strike and streets are stinking. The funding for social services is down because "they" do not care about such things. The divide between rich and have-nots is widening. The powerful Thomas refers to the have-nots as Clowns. Arthur beautifully asks: Is it me who is crazy or the whole world is getting crazy?
Eventually the clown's actions start resonating with many in the world!
Ambition. Love. Illusion of Love. Failure. Loneliness. Grief. Struggle. Celebrity Cult. Power. Pain. Everything is captured and shown subtly.
Joaquin Phoenix gives a masterclass in acting! The way he has sunk into the character and portrayed all the emotions – too good! He rules the screen. He owns the movie.
Director Tod Phillips has challenged the citadel of great directors with this movie. Oscars all the way!