Subroto Bagchi – One of the most wonderful and humble persons you will ever meet ! I had the good fortune of meeting this amazing human being and brilliant mind today.
Subroto is one of the highly popular and engaging authors. His books connect with us due to the sheer honesty and genuineness. I have read all his books and I am his ardent fan. Hence I grabbed the opportunity to meet him today when CII organized the round-table discussion with him. I and few other IT Professionals met him at EDI, Gandhinagar today.
Utpal asked Subroto about the different roles described in his book. Subroto explained the different roles as under:
1. Rainmaker – Every organization needs these people – people who can get business. Every sales person should be a rainmaker.
2. Thought Leader – People who can see 'Day After Tomorrow'. People who are visionaries and connect dots which do not exist !
3. Ninjas – People who can get flawless execution done without process violation within the time and budget constraints.
4. Coach – People who can train and mentor people.
Every organization needs a good mix of these roles to succeed. Organizations cannot be just Ninjas alone or Rainmaker alone.
He urged everyone of us to get a formal assessment done and understand where we stand. What is our dominant profile. And dominant profile is like our DNA – it cannot be fundamentally changed. Formal assessment will lead us to our growth – sometimes we think we are Leopards though we might be actually a Jackal !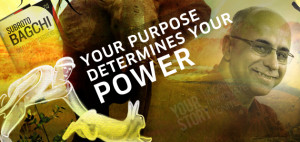 I (Ash) requested Subroto to share how we transformed himself and grew himself in MindTree's journey from 'Idea To IPO'. Subroto explained that he thought there were four key pillars:
1. Humility : Humility is very essential. We need to be receptive. Actually, CEO has to be like beggar !
2. Unusual Sources : Seek information and ideas from unusual sources. Cultivate white space time – it is very important. Important ideas do not need to happen in board rooms – they might happen in bath-tubs. And when bathtub ideas happen, do not wait for market validation or excel forecast – trust your intuition !
3. Mental Agility : Practice mental agility. Mind needs to be agile and challenge itself. Sometimes mental agility happens with displacement – change of city etc.
4. Sense of Purpose : The most important factor ! The purpose determines your power in life. The practical examples of Intel, Microsoft and Dalai Lama drove home this point effectively.
Very beautiful insights – worth internalizing in life !
Subroto also explained that entrepreneurs need to create more leaders – leaders who can see the big picture and who can have critical questioning ability. Entrepreneurs fail when they always surround people who think like them and are sycophants.
Subroto recommended the following resources:
1. Book: A Whole New Mind – Why Right-brainers Will Rule the Future is a book by Daniel H. Pink
2. Movie Documentary : Infinite Vision
3. Book: Leading with Questions – How Leaders Find the Right Solutions By Knowing What To Ask
Apart from the amazing experience, my reward was to get his personally autographed book ! Happy !!!