Shri Ratilal Premchand Chandaria is many things to many people. For me, he was my father figure. For our family, GujaratiLexicon Team and crores of GujaratiLexicon user, he was just our loved 'Rati Kaka'.
I still remember that rainy day in July 2005. One fine day we got a phone call that certain Mr Chandaria wants to meet us. Not knowing anything, we said OK. That was a strange meeting for me and my team. Ratibhai could not hear us, Sachin was helping him. But he was very interested in knowing about us and the work we have done on Gujarati. He asked us many questions, some not so comfortable. That day he told very little about himself. He asked me to research about his passionate project. I said OK. He left. I was very surprised and curious.
After he had gone, when I explored his project, I was wonderfully surprised. I was amazed to see the phenomenal work done by him. He had achieved something impossible – something which Universities or large companies or Government should be doing. And he achieved this solely on the basis of his devotion, efforts and enterprise at the age of 83. He had given 20 years of devotion and dedicated service to this project. 20 years is a long time – our experience of a little more than 20 months on Gujarati language had been very frustrating and thankless. Also, he was spending time on a collective good, rather than pursuing his business. Had he spent the same time and effort and passion on his business, he would have added more jewels to his business treasure. But he choose to work for his mother tongue.
He has chased people in USA, UK, Canada, Germany, France, India etc. He has approached companies like Microsoft, Apple, CMC, etc. He fulfilled his passion for Gujarati typing and has worked on all technologies, equipments and issues to fulfill his burning desire to benefit Gujaratis and non-Gujaratis to learn Gujarati with pride. In fact, inspite of his weak health, he had come down traveling for 2 hours on Mumbai roads to meet us. He had postponed his trip to London once he came to know about us.
Our interactions increased and we started working together. It culminated into the release of GujaratiLexicon on Jan 13, 2006. The GujaratiLexicon Project became famous and its users increased. The project became a common passion. The GL Trustee Team of Rati Kaka, Uttam Gajjar, Balvant Patel, Mansukh Shah and Vipool Kalyani worked very closely. We got support and encouragement from Dhirubahen Patel. We added more features to Gujaratilexicon and it continued to touch lives of people across the world. Digital Bhagwadogmandal, Digital Sarth Kosh, Lok Kosh, Kids Corner, Crossword, Mobile Apps etc are the worthy additions to the mighty project. The digital version of BhagwadGomandal reached the young generation and surpassed the print circulation of decades in a few months. It is archived in the US Congress Library and British Library Catalogue as a landmark work of Gujarati – an achievement made possible under his leadership.
In those years, I came across the extraordinary individual that Ratibhai is. He is a person with tremendous zeal and energy. He is a person who is razor sharp in his thinking, intellect and memory. He is very kind and caring. He cannot accept NO for an answer. I am yet to come across a person more humble than Ratibhai. He never speaks about his contribution, efforts, past laurels etc. He only wants to leave something for the future generation. We youth can learn the important lessons of dedicated service, relentless pursuit of goal, endless energy from him. His loving and caring nature adds another dimension to his greatness.
I was privileged to spend very close time with him. Whenever he would return to India, I would get a call from his team asking me to meet him immediately. Whenever I would go to his Mumbai home, he would ensure that I had my favorite vegetables (I am a fussy eater) and there was a PAN for me to eat. We shared our love for PAN and Pani Puri. When he was outside of India, Skype would ensure that we remained in touch. When I went to London, he would prepare tea for both of us in the morning. When I went out of his home in London, he taught me to navigate London's metro. He would wait for me to return home. He would sit late till night and talk. And his talks would be about gujarati language, technology and helping people. He never talked about himself !
He was always there for me – my marriage, birth of Aditya and other milestones of life. When my wife was pregnant, he wrote emails to her and after her pregnancy, he was the first one to visit her – even ahead of my other family members. Whenever I had to make any decision or whenever I was low – one Skype call to him and I would be clearer. He was my life mentor. He stayed at my house in Ahmedabad and time would fly. And so would Kulfis and Pans. He was a foodie and would love exploring good food.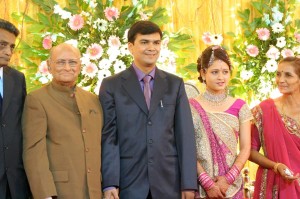 God has made him for a special purpose – he was indeed a divine soul. He was a melting pot of golden heart overflowing with lots of love, tons of generosity and unbelievable kindness. He worked his entire life with the agility of a roaring tiger and lived his life with his principles. He has led his life by example and built a successful and sustainable business. And then contributed to larger goals. No wonder, his contemporaries and his friends find inspiration from his life.
GL team is indeed honored to make a small contribution to this great work. We pray that the project should reach maximum Gujaratis across the world, create more linguists and contemporarize Gujarati for the future. Rati Kaka lives on in our hearts and GujaratiLexicon.
Rati Kaka – Suddenly life looks strange without you. I will always miss you!