Pre-Christmas Eve was a special evening!  A discussion on 'Perspectives on Mental Health' was organized at Project Otenga, Ahmedabad. This event was organized under the aegis of 'Against Depression', a clinical depression awareness project initiated by  Udit Thakre, a psychology student. Dr Nimrat Singh, a leading clinical psychologist, was our shepherd as she shared her rich experiences and knowledge of the subject. It was heartening to see a lot of young people – as they are the future shapers.
As the conversation proceeded, the group increasingly veered towards talking about depression. India is the depression and suicide capital of the world. According to NIMHANS, one in twenty Indians suffers from depression.  Depression issue in India is aggravated by the social and cultural factors. Most Indian families are reluctant to acknowledge the occurrence of mental illness in and around them. They are embarrassed and dismissive of the issue. This causes avoidance in taking the right steps to address mental health issues. On an average, it takes 10 years to diagnose cases of depression in India – which is much higher than the global average.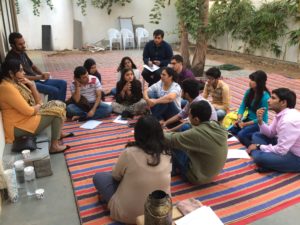 The session addressed many myths of about depression – such as:
– Once you get depression, you are gone for life. You cannot ever live a normal life.
– Women are more prone to depression than men.
– Weak people develop depression
– Introverts are more prone to depression than extrovert people.
The fact is that depression can strike anyone – irrespective of age, health, life-stage. Depression can be caused by a lot of things. It can be even triggered by weather, food or erratic lifestyle. Anger, when not channelized correctly,  translates into depression. Often, we are dominated and driven by media designed view of life – creating lot of self-worth issues.
Our eyes will see what our mind knows. Prevention and management of depression depends heavily of self-awareness, awareness about an individual's rights and awareness about a person's environment and how it is affecting him/her. The intensity of depression is directly related to dialogue. If you have dialogue with family and friends, maintain good relationships, exercise regularly and have a regulated lifestyle, you can avoid depressions. Maintaining a diary, regular family life and open dialogue help in channelizing feelings and emotions. In the words of Dr. Nimrat Singh " It is better to be a pressure cooker which release steam regularly rather than being a volcano."
The good news is that mental health issues, especially depression, can be cured. And people can lead a completely normal lives after treatment. The key is to create awareness and being there for people suffering from mental health issues.
Please find the links to the following documents – shared by 'Against Depression':
1. A continuously updated list of mental health professionals (psychologists and psychiatrists) in Ahmedabad
2. A manual on depression published by the World Health Organization. 
If you are interested in helping or being a part of 'Against Depression', please contact Udit Thakre at [email protected].
Let us work together on solving one of the biggest challenges of a rising India!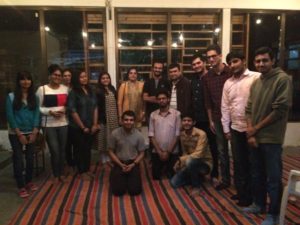 Participants with Dr Nimrat Singh & Udit Thakre 
Cover Photo Credit: Jad Limcaco on Unsplash