Is Taylor Swift The New Challenger For Indra Nooyi, Sheryl Sandberg, Mary Barra, Marissa Mayer? Taylor Swift Is A Clever Businesswoman For Sure!
Her website defines her position and ambition very clearly: "She is, quite simply, a global superstar." And rightfully so !
Taylor Swift is everywhere. She is on a roll. She is checking all the boxes:
1. Sweeping Music Awards
2. Record Fan Base – 50 Million Plus Followers on Instagram, 1 Billion Plus Views for "Shake It Off"
3. On Covers of Time, Forbes & Fortune. On All The Lists (Including Fortune's Most Powerful Women List – Youngest Woman @ 25)
4. Rising Brand Equity – Earning A Million Dollar A Day
So how did Taylor Swift "Shake It Off"? No Rocket Science, I guess.
1. Clear Goals: She always wanted to be a Music Diva. She executed her childhood dream and worked her way up.
2. Focus: She is a very focused professional. She takes her job seriously. She wrote her lyrics, sang and earned fans by performing at events, festivals, shows. She promoted her each album with religious sincerity. She has made albums every two years and is focused on her main line of business.
3. Image Management: She has created a distinct image for herself. She is a REAL star. She is Genuine and has made the right choices. She is in the media for usually all the right reasons. She has gone beyond the stereotype image of a music star as just a Glam Girl, Bad Girl etc. The way she handled Kanye West controversy in 2009 showed her maturity and her intent for staying for the long run. She has leveraged Social Media successfully and created a strong following. She directly engages with her fans in her unique style and this has created a genuine fan connect and loyalty.
4. Savvy Businesswoman: She means business. And she is willing to take a stand. Ask Apple ! She took on Apple Music for the way it compensated the musicians during the Apple Music Trial period. She took on Spotify as well and refused to put her music on Spotify claiming that they did not compensate artists properly. She has made strong product endorsement deals and handle various negotiations smartly. (She has strong economics DNA for sure. Her father is a VP at Merrill Lynch and her mother was in Mutual Fund marketing).
5. Perfect Philanthropist: No doubt, Taylor Swift is phenomenal as an artist. "Shake It Off" did not get more than 1 Billion plus views or 1984 tour was not a success without any reason. But she is not content with her main day job. She has leveraged the "Taylor Swift" power for pushing philanthropic initiatives that matter. Whether is children education, children health, LGBT or natural disasters, she supports the right organisations. Michelle Obama presented Swift with The Big Help Award for her "dedication to helping others" and "inspiring others through action". And today's consumer loves a humane artist, not a wild brat!
Her success has lessons for individuals and businesses – clear goals, focus, execution, perception management, social media best practices, brand values.
So far so good. But Taylor Swift is no regular music diva. She is not going to be sitting on her laurels. As an artist who speaks passionately about being reborn daily, she is pushing the envelope for the music entertainment industry. And she never says never. Keep watching Taylor Swift!
Image Courtesy: Taylor Swift Official Website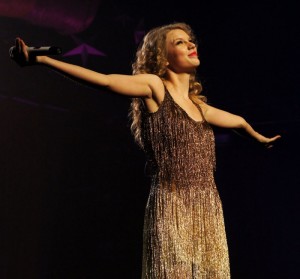 Meanwhile, Enjoy my favorite Taylor Swift song: