Rakesh Om Prakash Mehra's Bhaag Milkha Bhaag is a dramatic Bollywood experience with moments of magic. It is an inspirational tale of the Flying Sikh Milkha Singh. Farhan Akhar has given a towering performance in a career best role.
Everyone knows that the movie is the story of a popular athlete and hence there are set expectations. The challenge is to present a large than life aura of the star yet remain authentic. Rakesh Mehra's partially succeeds in achieving the difficult balance but he could have done better for sure. The film's length of 3 hours plus clearly expresses his struggle.
The film is the journey of Mlikha Singh as he conquers the world. His unhealed wounds of partition, his growing up years, his incomplete love story, his rise as an athlete, his brief flirtation and his pursuit of world record is beautifully captured. Milkha's early years represent the idyllic life in beautiful village in the pre-partition days. The move to India is painful but he adapts to the environment and grows into a lawless mischief. His relationship with sister is touching. The entry of love in his life inspires him to become responsible and amend his life. The salvation is in an army job where the glass of milk incentivizes him for a running career. His talent leads him to the glories inspite of the petty jealousies, setbacks and brief deviations. Milkha runs with fresh wounds after an attack by competitor and breaks the national record. He breaks the 400 m world record with his sheer persistence and passion. The movie ends with a typical India and Pakistan competition.
There are two heroes of the movie: Prasoon Joshi and Farhan Akhtar. Prasoon's lyrics are pure magic. The songs really touch your heart. He seems to be a worthy successor to Gulzar style of poetry. He has even written the story, screenplay and dialogues for the movie. Farhan Akhtar plays the character with pure conviction and his hard work clearly shows. He has not only build his muscles but only reconstructed himself with the movie. He is going to busy in the awards season. Divya Dutta is brilliant as always and Rebecca Breeds is charming. Sonam has nothing to do in the movie. Pawan Malhotra, Prakash Raj, Yograj Singh, K K Raina are all brilliant in supporting the main cast.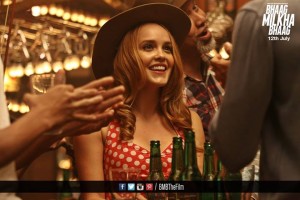 Inspite of its flaws, Bhaag Milkha Bhaag is a good movie. The movie is a lesson in pursuit of excellence. If the movie even inspires a few Indians to take sports seriously and live life with determination and will power, it will have ensured its place in the history.
Bhaag Milkha Bhaag – A Good Watch !