Intoxication found at Gujarat Vidyapith premises! Intoxication of love, respect and admiration for Prakash N Shah (પ્રકાશન. શાહ ka નશા)
The occasion was the public felicitation of Shri Prakash N Shah – the many with many roles! The auditorium was overflowing with double its capacity and people occupying the aisles, areas between dais-chair, service area – whatever space one could find. The Saturday evening distractions or the 40 degree heat did not stop the admirers to throng at Gujarat Vidyapith. The audience grabbed every word like a gem and the 2.5 hour event ended too soon – never mind the endless sweating!
Prakashotsav – The festival celebrating Prakash N Shah was organised by his friends, well-wishers and Sarthak Prakashan team.
The evening started with a mock court where the most loved culprit Prakash N Shah was produced in the court of judge Hashmukh Patel. The lawyers Ketan Rupera and Urvish Kothari conducted the proceedings with the help of Ashish Kakkad. The public prosecutor Urvish Kothari produced a stellar list of witnesses to prove the charges against Prakash N Shah. Ratilal Borisagar, Ashwin Chauhan, Ashish Mehta, Binit Modi, Biren Kothari, Nayanbahen Shah and other stellar figures accused Prakash Shah of several crimes – the burning ambition of being a prime minister, torturing the world with his cryptic and incomprehensible language, creating a cult of his own, communist leanings, hidden acting skills etc. The court proceedings were ably proved with strong logic, evidences and confessions of the witnesses.
The mock court was followed by the release of Urvish Kothari's book on Conversations with Prakash Shah. Prakash N Shah was felicitated by a section of citizens of Ahmedabad.
The grand finale was the speech of Prakash N Shah. He expressed his gratitude for the great gesture.
He recounted his journey. His central thought was – Yukta and Mukta. He spoke about Gandhi. He spoke about the impact of three primary books on his life. The audience was listening as hypnotised by David Copperfield but time came calling….
Prakash N Shah's intoxication and values will remain…An evening to remember for a human to never forget …..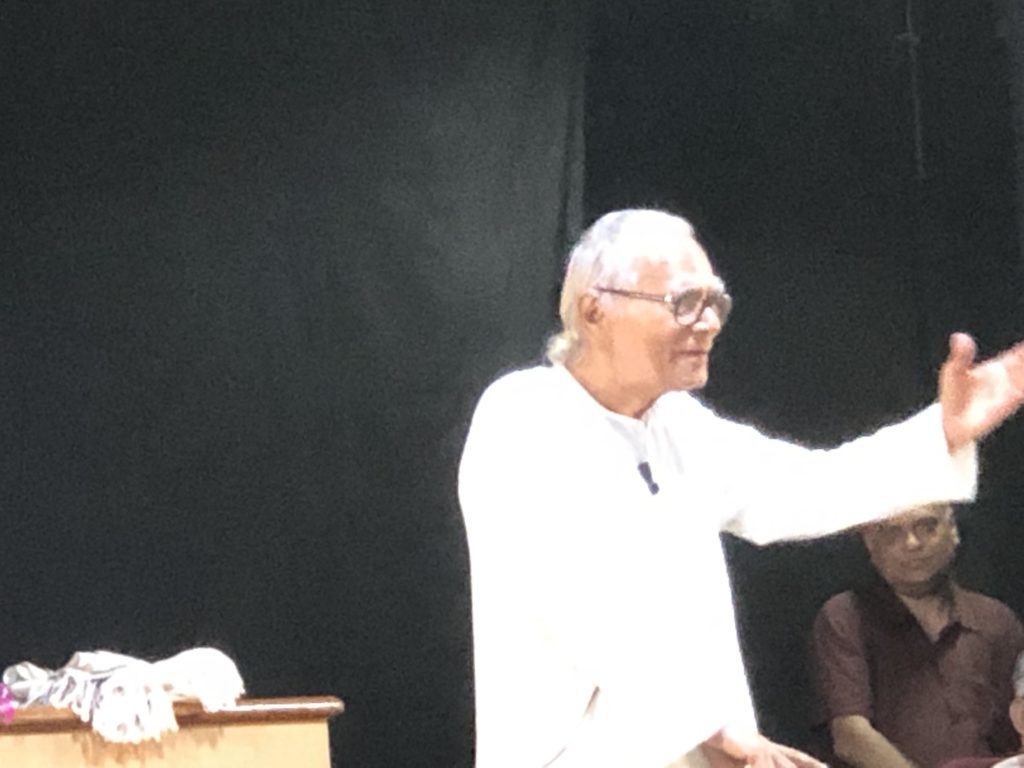 Prakashbhai & Ash:
The white clothes, the simple spectacle and the straight from the heart laughter is how I visualise him whenever we say Prakashbhai. His simplicity, his vision, his clarity and his friendliness is his magic that drives us to him again and again.
Thanks to Vipool Kalyani and Gujaratilexicon, I have the greatest fortune of spending lot of time with him and knowing him. The Nireekshak Digitization and other initiatives got us working together. Gujaratilexicon briefly operated from his residence during a difficult time in our journey.
Prakash N Shah is a towering personality but he is our Prakashbhai. Our DadaGuru….Sri Sri Sri Dada Guru…Not many can see the Halo behind him…So you see he does have a cult! He is also the business partner of my spouse – they are still searching for their Eureka moment!