Ahmedabad is celebrating the Heritage Week. A number of celebratory events took place and one of the most interesting was Sufi Festival @ Sarkhej Roza. Organized by Craft Of Art, this was an very engaging and memorable event.
Sufi Music has become very popular in recent times. The packed audience at Sarkhej Roza was a testimony to this popularity. People braved the cold winds and the distance to enjoy the divine music. It is an encouraging sign for sure ! Creme le da creme of Ahmedabad brushed soldiers with true blue fans of music.
The beautiful venue provided the perfect backdrop for the Sufi Festival. Sarkhej Roza was all lit up and looked like a bride ! Sarkhej Roza is one of the most elegant and unique architectural marvel of Ahmedabad. It is an wonderful example of early Islamic architectural culture of the region with influence sof Persian, Hindu and Jain features to form a unique style.
The evening was hosted by popular Film and TV Actor Anup Soni. He quoted Shaayris and Quotes liberally. His definition of Sufi was one where the aritst, audience and Almighty all become One. Sufi is celebrating 'Andar Ki Kaynaat' and killing 'Bahar Ki Buraai'. Sufi is celebration of unity with Almighty and pain of departing with Almighty.
The evening started with renditions from Anwar Khan Manganiyar from Jaisalmer, Rajasthan. His amazing performance left us spell-bound. It was followed by Bickram Ghosh's fusion on tabla. The highlight of the evening was of Warsi Brothers' Sufiana renditions. 'Allah Hoon Allah Hoon', "Deewani", etc moved the crowds.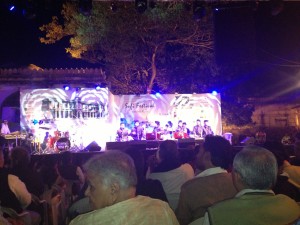 Audience wanted the show to go on. Because of time restrictions, all performances has to be curtailed. Each ARtist should be given atleast an hour and prime performances need even more – Something that regularly happens at Saptak.
The Sufi music and Sarkhej Roza Backdrop are indeed a magical fusion. Waiting for the next edition !