AppFest 2013 was a grand success. Hackathon saw the best talent fight it out for the great honors and grand prize.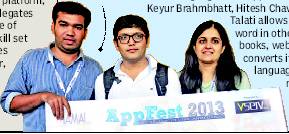 Space-O Team won the top honor for Book Barter concept. The runners-up prize was won by Arnion Technologies' team of IT enthusiasts. These professionals tried to address the issue of language barrier faced by online users by introducing an offline Gujarati-English dictionary, which can translate words from and into both languages. The application developed by Keyur Brahmbhatt, Hitesh Chavda and Deval Talati allows users to select a word in other applications like books, websites or SMS, and converts it into another language. It learns the new words once the user goes online.
Congratulations to All.