Sushri Dhirubahen Patel : A compassionate soul who spread love, warmth, positivity and sunshine.
A literary legend, film writer, play writer, a Gandhian, translator, Gujaratilexicon and Bhagwadgomandal's inspirational advisor, Gujarati Sahitya Parishad president, Gujarat Vishwakosh Trust's key figure – she had many identities and she excelled in her role. Ketan Mehta's famous Bhavni Bhavai was based on her book. She has created a rich body of Gujarati work and won several awards including Sahitya Academy Award. Dhirubahen Patel's demise is a big loss for the Gujarat and Gujarati world.
I was one of the lucky ones to be blessed by her divine company. Gujaratilexicon was instrumental in our introductions in Bombay and we worked on several projects. Her energy, her drive and her commitment to ensure a successful outcome for our projects was inspirational. Dhirubahen launched our landmark project Gujaratilexicon with her blessings in Jan 2006. The next work Digital Bhagwadogmandal was executed in a record 11 months and Dhirubahen launched it in Jan 2009. I fondly remember the interactions in Bombay, at her Santacruz home and trips to Rati Kaka's house and our home.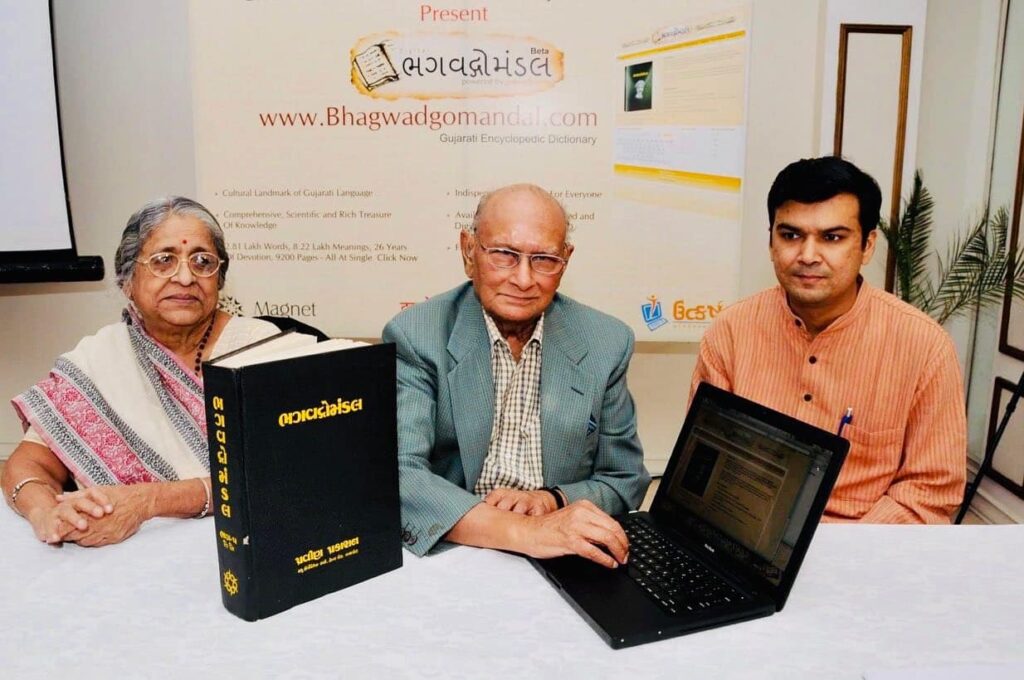 Over the years, we developed a strong bond and I and Komal were amazed by her briliance as well as simplicty. We relished her stories and anecdotes from her rich life – her interaction with Mahatma Gandhi, interesting events, interactions with film directors. Her wise counsel, warm interactions, maternal affection and pure unlimited love is something that I will miss forever. Komal and Dhirubahen spent a lot of time together recently and we cherish these moments.
My final interaction with her was equally enlightening, She asked us to avoid serious talks. We agreed for quick QnA.
What's the fist thing you want to work on?
Premium Gujarati Magazine
What's happiness?
Living life thoroughly – Maximize every moment!
What's purpose of the life?
Shrikhand (She loved it – A foodie at heart!)
Do you believe in heaven?
Heaven is here. Hell is here.
Dhirubahen Patel – A life lived well. A life to celebrate. A spiritual soul.
Dhuribahen – Rest in peace! Om Shanti Om Shanti Om Shanti