Open Our Hearts And Wallets For Kerala!
Every Little Help Counts!
Donate Help, Material Or Funds! Many Options Available To Stand Up For Kerala!
Lots of ways to help! Lots of people and organizations helping!
Listing a few options:
1. Chief Minister's Distress Relief Fund
The best help right now is monetary help.
Financial assistance can be provided using the CM's Distress Relief Fund (CMDRF). The donations are exempted from income tax as well as Foreign Contribution Regulation Act, 2010.
Donation Link: donation.cmdrf.kerala.gov.in
You can use international or national payment option.
2. Prime Minister's National Relief Fund
PM Fund:https://www.pmnrf.gov.in
3. Goonj
Goonj is one of the most genuine organizations that has been helping less privileged. Its founder Anshu Gupta is a Ramon Magsaysay winner. You may have seen him in KBC as well. (I know him via his brother Nishu Gupta, who is my SPJain batchmate). Genuine guys!
You can help via them:
https://goonj.org/rahat-old/
4. PayTM, Amazon Etc.
All major apps including PayTM and Amazon have donate button. (See images)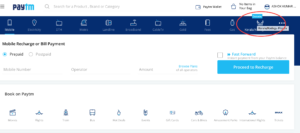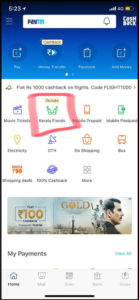 5. Common Indians have risen up!
Friends of my friend Sridhar have taken up the mantle of helping Kerala…And so are other Indians…if you know authentic guys, please help. See one example!
We are putting together and organising resources for help for people in Kerala. We request your kind help in any way possible. We need volunteers for collection, transportation, Delivery and Distribution into Kerala. We are also in need of any relief material that you are able to provide us with from the below list:
Materials required:
Water purification tablets
Diapers
Soap
Toothbrush
Toothpaste
Towels
Clothes( please dont send us unusable clothes)
Medicines – crocin, antibiotics, cough syrups, first aid etc.
Dettol
Packet food ( biscuits, ready to eats etc)
Sanitary pads
Candles
Matchboxes
Milk powder for kids
Mosquito repellants
Chlorine tablets
Tarpaulin
Rubber chappal
Rain coats
Mats for sleeping
For Chennai collection:
please deliver at
No. 14, 3rd street,
Ganapathy colony,
Teynampet,
Chennai – 600018
For Bengaluru collection
please deliver at
Hermitage Apartments,
No.22, Haudin Road,
Ulsoor,
Bengaluru
Please contact:
Gayathri – 9677251362 / 994040003
Sridhar – 8939114640
You can send the money to the below given account with the transaction comment as "For Kerala Relief". Account details are:
Acct holder name: Sridhar Divakar
Bank: Citibank
Acct number – 5014973445
IFSC code – CITI0000003
Please help! Every little help helps!