Mughal-E-Azam is a landmark classic of Indian cinema. The movie was the costliest movie and broke all box office records to become the highest grossing Bollywood movie of all time. Its record was broken by Sholay. Its footfalls were higher than Baahubali and Hum Aapke Hain Kaun.
K Asif's Mughal-E-Azam is a milestone of Indian cinema. It has been reinvented and redesigned by Feroz Abbas Khan as a musical play. Set in the style of Broadway, this musical play accentuates the greatness of original Mughal-E-Azam.
The play was launched in Mumbai and has travelled to Delhi. It was in Ahmedabad for four days and we grabbed the opportunity to see it.
Mughal-E-Azam means grandeur. Feroz Abbas Khan gives Broadway treatment and royal grandness to the play. Each and every aspect of production is impeccable and majestic. The set design and the digital play is the highlight. The choreography is awesome. Manish Malhotra's clothes and Naushad's music steal your hearts.
The live music and the singing by actors is terrific. Audience had multiple queries of it being recorded or lip-sync. The actors sang live to clear all doubts.
Parda nahi jab koi khuda se, Parda nahi jab koi khuda se
Bando se parda karna kya, Jab pyaar kiya to darna kya
Wow!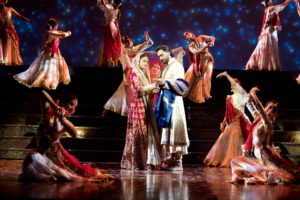 Mughal-E-Azam has a story is timeless and appeals to the broader audience. It is a story that brings out the secular nature of the nation. It has class conflict, love conflict and many other dimensions.
Shapoorji Pallonji produced the K Asif version and they brought it back in theatrical form. This is also a classic in making.
Big cheers to Feroz Abbas Khan. The magic of Feroz Abbas Khan is the grand visualization and courage to reinterpret India's milestone movie. To contemporaries it for Instagram generation. A timeless love tale in Tinder times.
Watch it!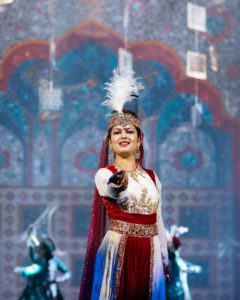 YouTube Glimpse:
Special note for the Ahmedabad event organizer: It was one of the worst experiences. The basic promise was broken. The seating arrangement was not as promised. The cancellation of two lower categories and they placing them at the top of the ladder was a stupidest mistake. The show started one hour late, and police intervention was required to start the show. Total chaos. Many people came from other cities to watch it and the experience was shameful. Senior citizens had to stand for hours. We watched the 60% of the show standing inspite of my friends paying a bomb for the tickets.