Dreamer. Traveler. Technocrat. Cinephile. Mentor. Speaker. Blogger. Father. Son. Husband. Friend. Idiot. Work In Progress.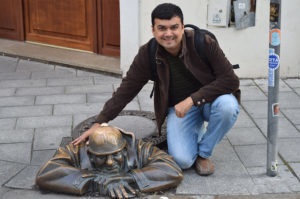 Hazaaron khwaishein aisi,
ke har khwaish pe dam nikle
Bohat niklay mere armaan,
lekin phir bhi kam nikle.
Thousands of desires,
each worth dying for…
Many of them I have realized…
yet I yearn for more…
– Mirza Ghalib
The name is Ashok and my attempt is to influence the environment around me. I have been passionate about Business, Technology, Bollywood, Travel, Language and Social Enterprise. The interesting confluence of these passions provide with me a unique perspective. I aim to leverage these perspectives in creating new chapters and new avenues for future.
I am lucky to work with a silicon valley innovator where I help organizations from the Fortune 500 to startups solve their digital challenges and accelerate innovation. I am associated with social enterprises and industry-academic initiatives. I have a strong bias for purpose-driven actions, creativity, productivity and giving back.
Finally, sharing is caring! I believe that expressing self and sharing is important to make sense of ourselves and the world around us. And, this is the place where I share my ideas, thoughts and other interesting things. Happy reading!